How We Customised Our Own Varsity Jacket
HOW WE CUSTOMISED OUR OWN
VARSITY JACKET
We love to showcase how our customers can use our custom products to create amazing pieces of unique apparel.

To celebrate our 10 year anniversary, we created a set of exclusive varsity/letterman jackets for our staff and gave one away
in a celebration competition! We wanted to create a sense of community, togetherness and identity here at Aspinline. We also wanted to become better ambassadors of our products. The varsity jacket is an iconic American fashion item that is closely linked with patches, rooted in American sports and academia.

Here's a run-down of how we made our own custom
Aspinline varsity / letterman jackets.
TPU Patch: Hook & Loop, 75 x 46.2mm, raised and recessed texture.
Woven Label: Laser cut border, 80 x 36.3mm, no fold
Chenille Patches:
'10' - 170 x 153.6, Sew-On, Laser Cut, Felt Twill,
'A - 139.8 x 140mm, Sew-On, Laser Cut, Felt Twill
A classic varsity/letterman jacket from the USA, Stewart & Strauss, felt and vinyl - https://jacketshop.com/
We started the process by creating a mood board which included designs, styles and illustrations that encapsulated the theme that we wanted for our jackets. Our artwork team then created designs for each of the items.
We took inspiration from classic varsity jackets, especially the Baltimore Orioles, as we loved the colour scheme.
We wanted the jacket to be a nod to our company, but not a walking billboard. So we kept it low key. The 'A' is for Aspinline and the '10' is for our 10 year anniversary, but the references could refer to anything and means the jackets could be worn by anyone. The TPU patch is an all black UK flag, because that's where we live and work. Then we added a small, subtle, Woven Label with some specific details
about Aspinline and the anniversary.
We kept the same colour theme throughout, opting to go with black, orange and cream. We felt this colour scheme had a vintage and autumnal vibe, which rang true with the time of year of our anniversary and mood we wanted to create.
We created a rough composite image of the designs to see how it would look.
See below: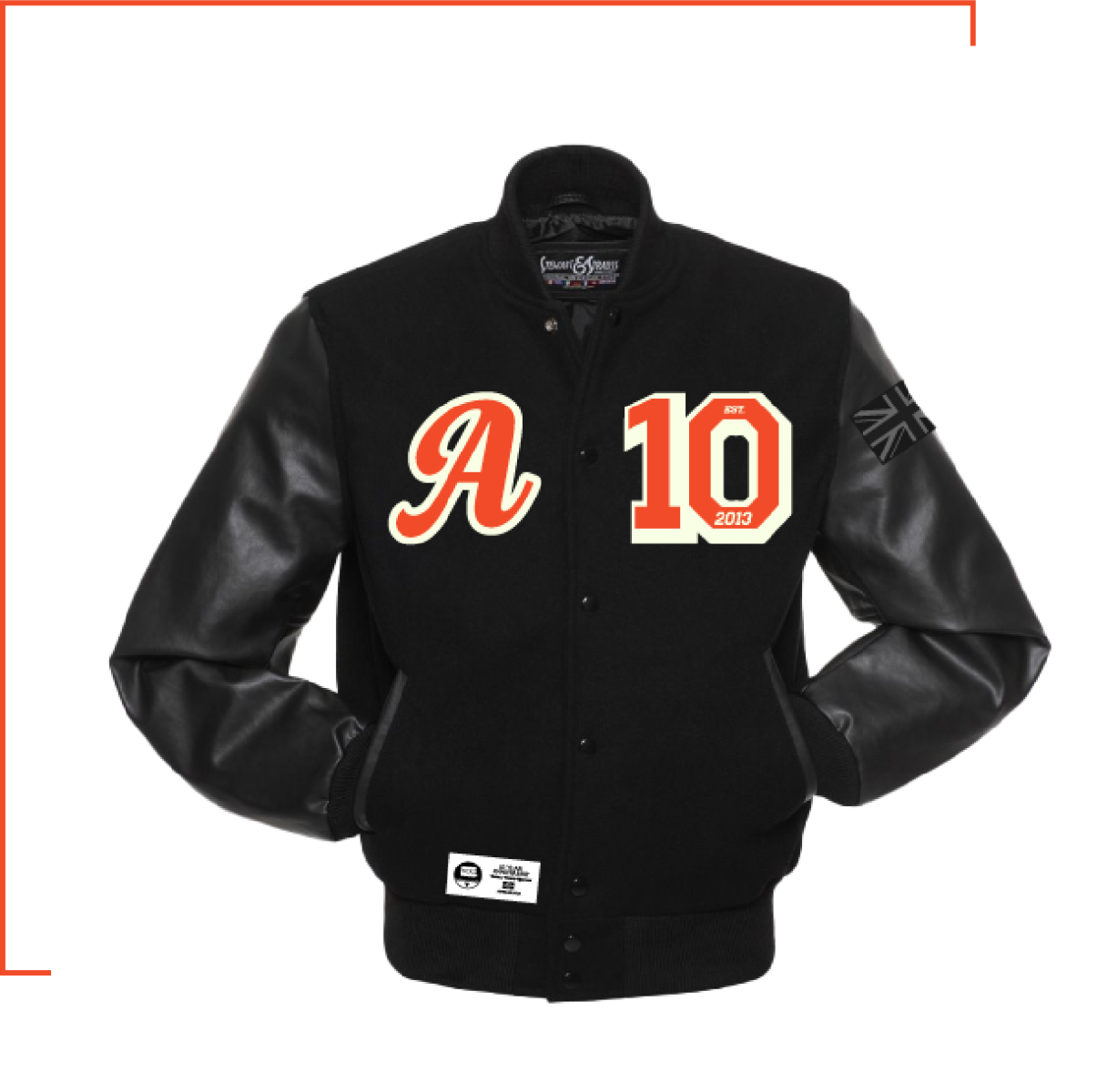 We used a Brother Innov-is A16 Sewing Machine to apply all patches and labels. It was robust and big enough to handle the thick jackets and get through the thick wool and vinyl. High five Brother!
Some tips on using the sewing machine for application:
• Use quality thread. We used the same thread we used to make
our Embroidered Patches (Rayon).
• Load the bobbin with the same colour thread as the top thread.
• When you start to sew a patch on, go forwards 5mm, then go back 5mm, then go forward and keep going. This will secure the patch to the garment well. Do the same when you reach the end: go back 5mm, then go forward 5mm and stop.
• Use a thread colour that matches your design. We tried using opposite colours, like orange on cream, or black on cream, but it meant the quality of the sewing had to be near perfect. So we used cream on cream, black on black. This finish looked much neater and disguised any errors we made, which of course happens.
• We used wash-away adhesive tape and pins to hold all patches and labels in place. The jackets are so thick which makes rotating them in the machine awkward, with lots of bunching and feeding from back to front. Resulting in a high potential for the patch to move and come off if not properly held in place.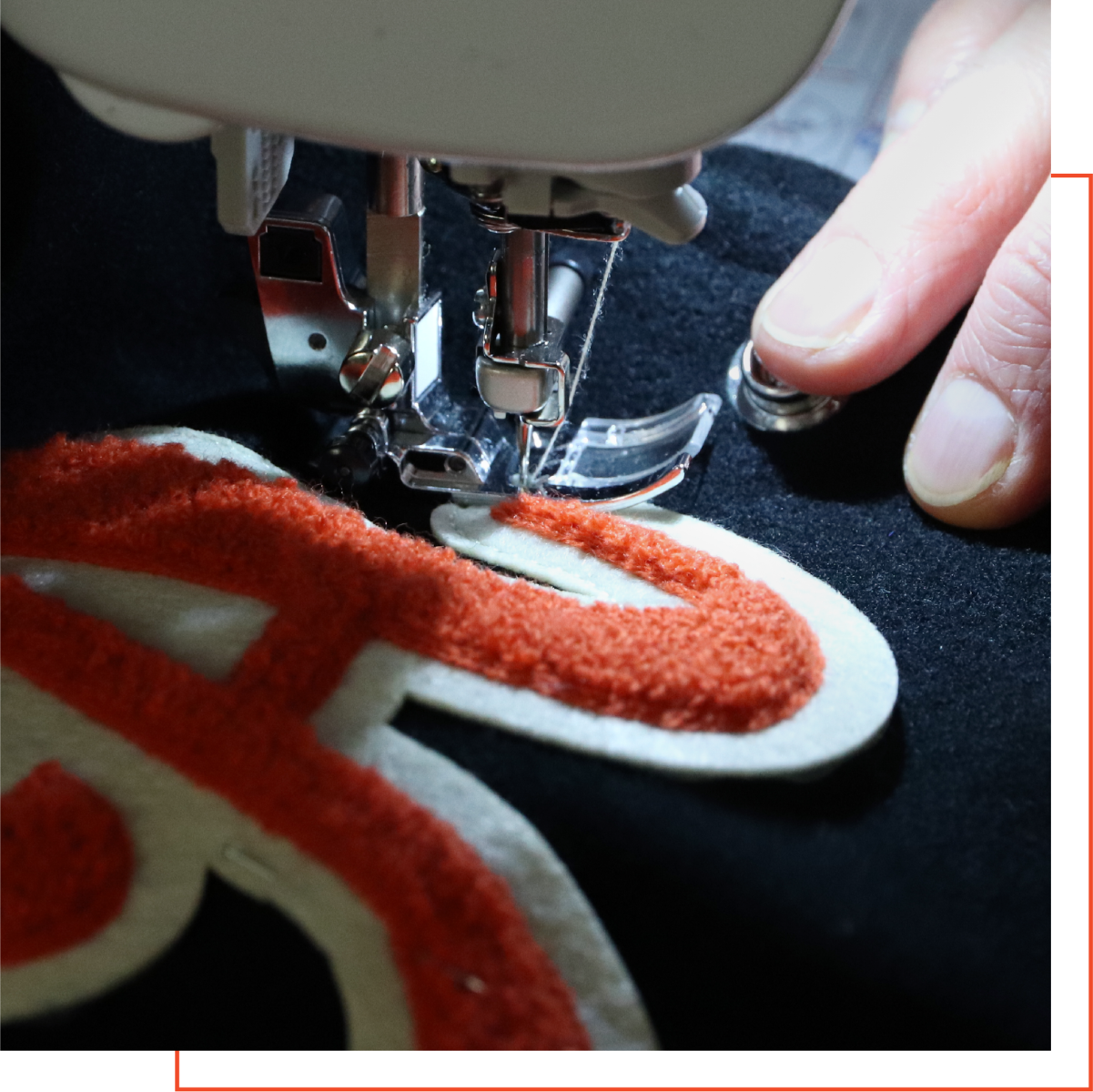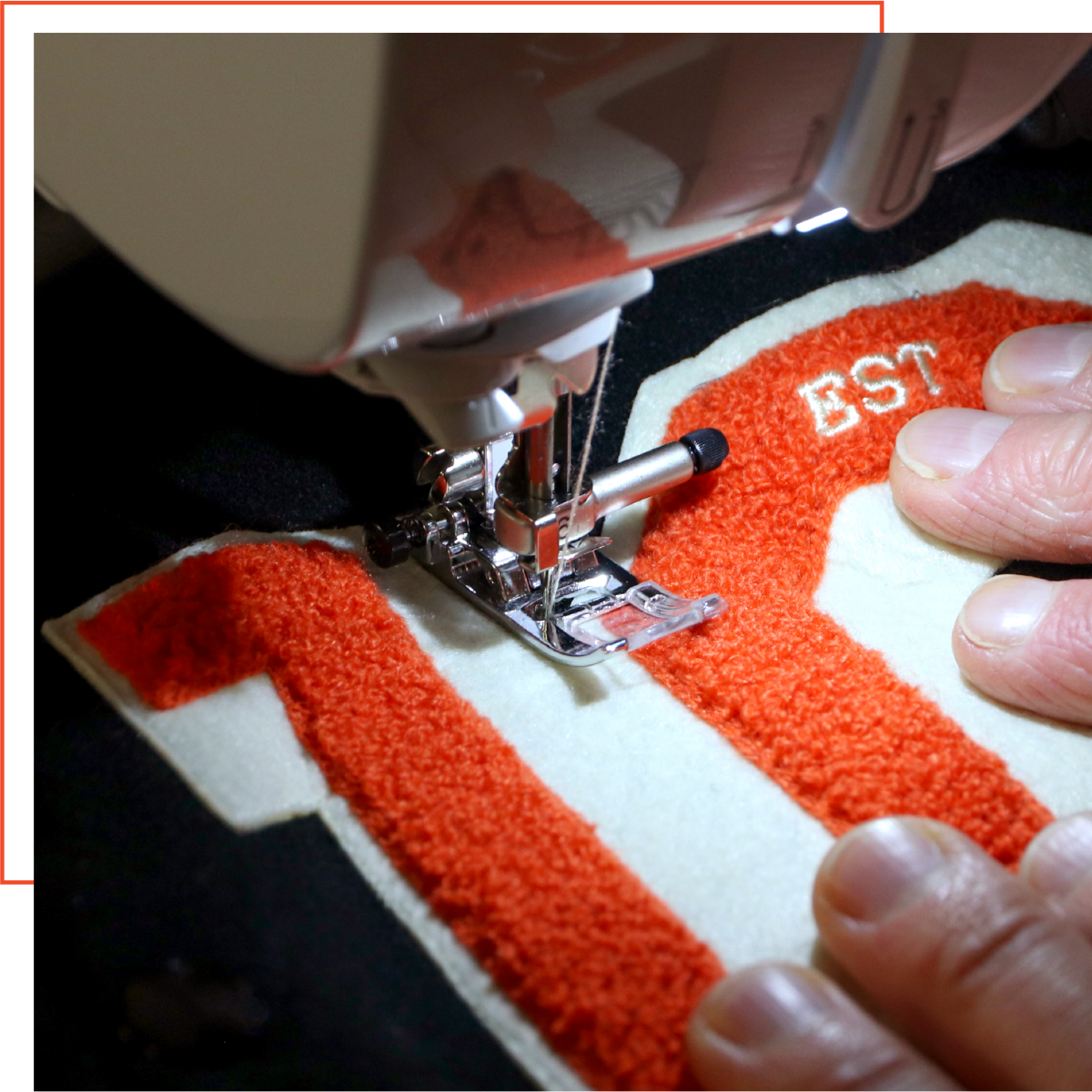 • We sewed a single thread into the felt twill of the Chenille patches, 1-2 mm away from the edge. We thought we might have to apply the patches with an applique/overlocking stitch which could get tricky, but in the end the single stitch along the edge worked and looked great, and is the most accessible finish.
• We made sure the loop part of the TPU hook & loop patch was very securely sewed on, especially at the corners. Pulling the patch on and off takes a bit of force, so you don't want the loop part ripping the jacket or coming away in the process.
• Measure > layout > soft apply (tape) > put the jacket on > adjust layout if required > pin > sew..
Make sure you have positioned the patches correctly. Sewing the patches in the wrong position and then having to unpick all the thread is a nightmare!
We want our jackets to last, so here are our suggested aftercare instructions:
• Lint roller
• Remove marks & spillages without delay, with a damp cloth
and a small amount of washing up liquid.
• Dry clean only